Dad and I really enjoyed our time aboard the Alaskan Harvest! Bruce and the crew were a lot of fun and made for a very memorable trip! The food was exceptional along with the accommodations. You guys truly have something very special!
We hope to join you guys again in the future for another hunt.
Thanks to each one of you for the amazing few days I have gotten to spend with each one of you. It was a true pleasure. You all are so friendly and welcoming. Also, it does not disappoint me  too much that Bruce was able to put me on a bear the first day!
Thank you to Bruce and team for the wonderful service and attention to detail. This place is truly beautiful and pictures do not do it justice.
With much love and best wishes for the future.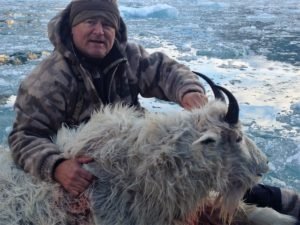 "A National Geographic Experience – Awe-Inspiring Beauty! My wife and I had an incredible adventure with you and your crew, who were all consummate professionals. We traveled to Southeast Alaska to hunt mountain goat the first hunt week of the 2016 season but had no idea that we would have a National Geographic experience. I do not have the words to adequately describe the beauty we were immersed in. After glassing many billies, nannies and kids the first day, I was confident I could be successful on this hunt. On day two after a 350-yard shot, I was able to wrap my arms around a handsome long haired billy that we will proudly display in our home and re-tell our adventure for years to come."
Gary & Jan Crouch
Wichita Falls, Texas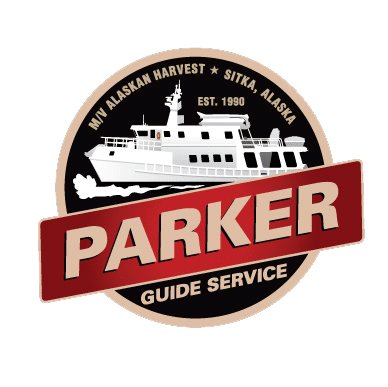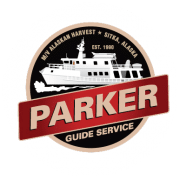 To begin with I was 78 years old, a cancer survivor with a permanent ostomy (bag), severe arthritis when I was picked by my friend, Donald C. Wright, to go on a 10 day brown bear hunt.
I was nervous about my health and apprehensive as I was not wanting to be a drag or liability to the other hunters and guide service.
It did not take long to find out it did not matter to the owner, Bruce of my age or condition. He had a plan. My first guide, Dan, was great! He carried my rifle, helped me in and out of the skiff and treated me like I was his own dad.
Dan had to leave early so the last three days Bruce was my guide (no pressure) LOL! We had seen plenty bears and I wanted to shoot each one I saw but was advised to wait the right one would present itself to you. On the ninth day a great bear was seen offshore (everyone saw it but me) so we made for the shore. A wall of rocks had to be scaled. Bruce pulled me up foot by foot. He told me you and the bear are going to see each other for the first time … .the bear has two choices the woods or you. You have one choice "Shoot the Bear!" That is exactly what I did … one shot… .. one kill. Bruce stood up held his rifle over his head and screamed to the top of his lungs! He was as happy as if he had shot the bear. Of all my years of hunting he was the greatest gentleman and outfitter I have ever hunted with. I would go back again in a heartbeat.
Thanks to Bruce, Ann Marie, Ruger, Dan and Carl for the hunt if my lifetime!
Preacher, John Mitchell
Ephesians 6:8
PS: Monster Bear 26 5/16 skull
"Any hunter seeking to hunt Black Bear in Sitka, Alaska should go with Parker Guide Service. Using the boat Alaskan Harvest, Parker Guide Service is able to get their clients into superior hunting grounds in very little time. The crew aboard the Alaskan Harvest is well aware of the needs of the hunting group. Meals are delicious and easily as good as any 5-star restaurant. Guides spare no effort getting hunters onto high-quality trophy bears, and their field care of the hides is outstanding. The single most impressive aspect of Parker Guide Service and crew are their meticulous attention to detail. That alone makes the whole experience enjoyable for everyone."
"The best black and brown bear hunting ever- hands down! Bruce is the best guide I have ever been with. Out of 20+ big game hunts around the world this is the #1 outfitter. His accommodations are first class"
Russell & Dr. Long
Missouri
Thanks for showing us beautiful Alaska! We had an awesome trip and owe it all to you and your crew."
Jeff, Adam, Tonya, Mel, Jordan & Jenna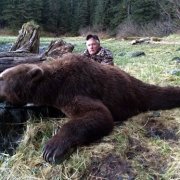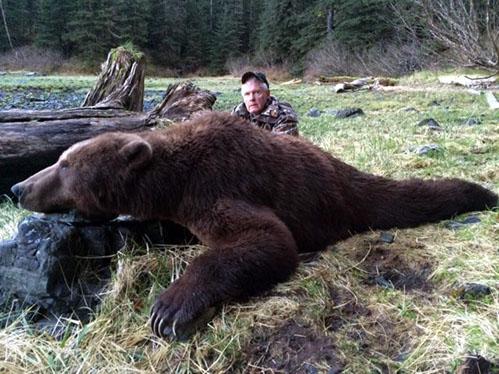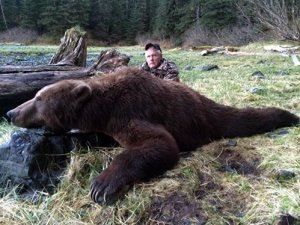 "I have hunted globally for 40 years and my 2016 April combination brown and black bear hunt with Bruce and his team has been the very best. Everything was perfect and I look forward to returning to Alaska to hunt again with Parker Guide Service."
Bill Alexander
Houston, Texas
"Our trip with Bruce and his crew delivered the family holiday I sought with memories and wonderful experiences shared and enjoyed at the time producing a bond for life for the adult children, cousins, and parents. Bruce, the crew and the Alaskan Harvest were so accommodating and keen to deliver special moments that it is hard to imagine ways in which it could have been improved. The animals, scenery, and atmosphere all combined to give us a truly memorable holiday we will reminisce about for the rest of our lives. Of particular note were the awesome Orcas, kayaking among the icebergs and up to the face of glaciers, and taking alternating dips between the hot pools and the cold river- oh and how could I miss mentioning the bears! Our photos are fabulous and will be reminders at many family gatherings of the family holiday that has set the bar very high indeed and will be difficult to reach again."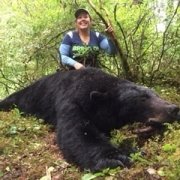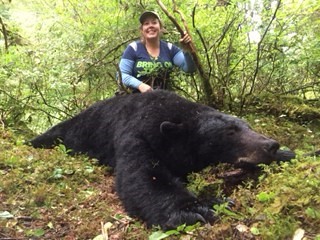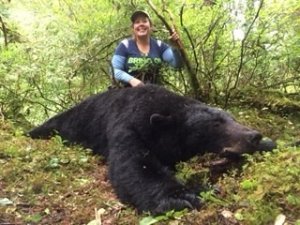 "One of the best North American hunts I have ever been on! Thank you so much for the hospitality and the great adventure you took us on! We had a great time and will definitely be looking forward to coming back! One of the best North American hunts I've ever been on!
"I have been blessed to have participated in many big game hunts around the world. My 2014 brown bear hunt with Bruce Parker was excellent in every regard. The booking, arrangement, and questions asked, were all done in a professional manner and superior to most of my previous experiences. The accommodations were five-star and exceeded my expectations. The food and attitude of cooks, guides, etc. was outstanding. Both my friend and I harvested huge brown bears with Bruce Parker being our personal guide. I have never written a recommendation for a hunting experience, but I would recommend Bruce Parker and Parker Guide Service to anybody that wants superior service, accommodations, and results."
"This was a Great Adventure trip of a lifetime, scenery, accommodations, you and your crew, and incredible animals in an area so beautiful it's impossible to describe! People should come here to experience this for themselves."
"This was an incredible experience to be with you and your team, and most importantly with my son Weston as he harvested his Big Brown Bear on my 44th Birthday. As well as my hunting partner Brian, and his non-hunting brother Chris with Brian getting his trophy Brown Bear, a dream come true for him! AWESOME!!! A special thanks to you all, what a memorable trip and thankful to have been in this Beautiful place made by our Creator!"
"I've been on a lot of hunts over the years, on this my 71st year I can truthfully say I've never ever had a better trip!"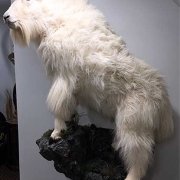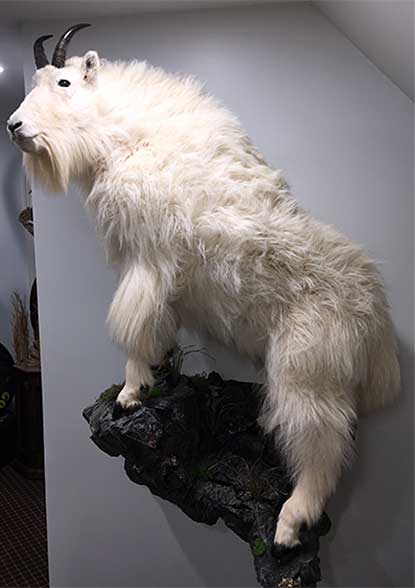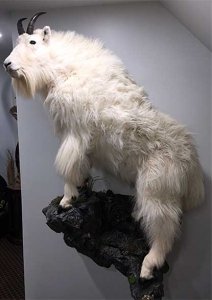 "I just received my Mountain Goat and wanted to send you a couple of photos. I think the mount turned out fantastic. Thank you again for the hunt of a lifetime."
"Thank you guys for all of the hospitality. These memories will last a lifetime."
"You guys have been great hosts and guides. Thank you for the wisdom, good eyes, and all the great stories. My stomach thanks you endlessly. I haven't eaten that many good, consecutive meals probably ever. Hopefully I'll see you all again in the future. Best Luck."
"I can't thank you enough for one of the most memorable trips of my life! My sons and I had a great time, Your efforts were far beyond anything I could have hoped. The hunts were great and the food was awesome. We look forward to coming again!"
Bruce and Ann-Marie,
Thanks for a wonderful hunting trip. Accommodations, food, staff, hunting, all excellent! Thanks for a wonderful experience and a nice bear."
We will never forget the yacht, or Bruce's warmth and wisdom to provide an unforgettable trip. This scripture comes to my mind. Proverbs 14:33: "Wisdom rests in the heart of one who has understanding".
It's hard to believe but this trip was even more enjoyable than my last. A true and wonderful Alaskan experience. In addition to our successful haul for Brown Bear, we caught steelhead, dolly Varden, and Dungeness crab. The fantastic scenery and game we saw and photographed were only surpassed by the terrific hospitality of Bruce Parker. You are a pro. Thanks for the fun, the food, and the fantastic voyage. I'll be back with my son as soon as time permits
This was a trip I had not planned on making, but I'm happy that I decided to come. Bruce did an outstanding job showing us bears (we saw over 20), and putting us on great possibilities.  He is completely professional in every sense of the word. I can't say enough about the food and accommodations. My son, Bobby and I will be back in August for a fishing trip. I don't think he fully understands the treat he is in for.
A great trip with wonderful results. Thank you
This was a thrilling trip! You two guides are hardworking, knowledgeable, and made sure we had a good time. The beds and food and gear are great too and it was extremely comfortable and relaxing.  Hope you stop to see me in Idaho. Thanks for finding the big bears.
I had a ball! SE Alaska is fabulous! The guides were great and simply too much fun. You run a first class operation. I will recommend you to other hunters. Thanks for a great time!
Bruce, Ann-Marie & Crew,
Thank you for making a non-hunting, non-outdoor woman feel so welcome and comfortable aboard the Harvest. Your Alaska is truly overwhelmingly, mega vast and beautiful. Even the "toads" are awesome! (at a distance)! Once again, a great experience for me!
Second trip with hardworking super guide Bruce Parker. Goat hunt first and now this hunt for Black Bear! Both successful hunts, including being with great people in some of the best scenery in the world. Would enjoy coming again!  We saw 40 plus bears on our trip, humpback whales, white-sided Dahl porpoises, seals, sea lions, sea otters, and more!
Stewart & Shirley S
Wisconsin
It has taken more than 12 years since I came back to Alaska to hunt. What a trip this has been. Bears you "gottum"! To shoot a bear you like and then to find out what a monster he turned out to be was the highlight of my trip. Bruce & Ann-Marie, thank you very much. You all work so hard to make peoples dreams happen!
First trip to Alaska. Makes me want to stay. I had a wonderful time and saw over 70 bears. Being 10 yards from a bear unobserved is really exciting. I learned that a hunting trip can be a success. Thanks.
Slept like babies, ate like in a 5-star hotel, and hunted and hunted. Two black bears the first day (7'3" and 7'7") and an 8.8" brown bear the third day. We are going home with great trophy animals. Thank you for the wonderful trip.
Thank you so much for a life experience I'll never forget. I enjoyed hunting so much with both of you. You provided everything for us and made us feel at home and comfortable. The food was unbelievably good. I hope someday we meet again on great hunting excursion again. Take Care and never stop doing what you do best.
Most memorable experience! Breathtaking scenery and thoughtful crew. We were thankful for the warm yacht at the end of the day's hunt. Remarkable memories with the 2 other hunters that we met and will hopefully see again. Much Thanks.
Great hunting experience! Nice goat within 24 hours of arrival onboard the yacht. Breathtaking views in the most peaceful part of the world. This is the second time hunting with Bruce and not the last. Great hospitality, much extra efforts by the whole crew. Thanks again for the lifetime of memories.
Great hunt. Great big brown bear. 9 1/2' wither a 26 1/4 " skull. Thank you and see you in a couple of years!
What a fantastic friendship we have developed. A great time. A fabulous bear and fun with all. Thanks for taking such good care of us.
Steve and I had a tremendous time. An exciting, energizing, and relaxing time. A magical environment and great company with all the guides. I look forward to another trip soon. Having a challenging time now to mount my great bear that was shot the second day. I'll always remember it.
What an awesome adventure! Great guides, great food, and great friends. Thank you so much for making our time on the Alaskan Harvest one we will forever cherish. I suspect Mike will return to get his own brown bear!
We have greatly enjoyed experiencing Alaska in the company of someone who knows it well.  The food, the service, accommodations, and guide services were superb. Thank you for making our Alaskan adventure one we will long temper as one of our favorite trips. We will remember you fondly when we see our bear rug or play cribbage.
To Bruce and your team,
Thank you so much for my first Alaskan Adventure and first huge brown bear. I will never forget this experience. Your operation is top of the line in every way.  Thanks Again.
The hardest part about the hunting trip is leaving good friends. We thoroughly enjoyed our 3rd adventure here with you. If has been great memories that we will always treasure. Thanks for everything & we will see you again.
Dave & Druane F.
South Carolina
Had a fabulous hunt on the Alaskan Harvest with Bruce. Excellent accommodations & service & outstanding hunt. Bruce is a persistent and patient guide with great knowledge. Took a great Brown Bear and thanks to Bruce and Dan for getting it done.
The team at Parker Guide Service exceeded all expectations. Accommodations were incredible and great to come back to after a long day hunting. Dan, Bruce, and Ben worked incredibly hard to make this trip a successful one & they succeeded beyond all measures. Wonderful people & an amazing place. Certainly one of the most memorable trips I've ever been on. Can't thank you guys enough!
Have hunted globally for over 40 years, and the black bear and Brown Bear combination with Bruce and his team has been the very best. Everything was perfect and I look forward to returning to Alaska to hunt again with Parker Guide Service.
Wonderful Brown Bear hunt. Excellent accommodations and food. Thank you.
Thanks for the fantastic hunt! A beautiful Brown Bear from the most beautiful place on the planet!  God is good!
Second Bear hunt with Bruce. Beautiful black and brown bear! Killing is his business and business is good!
On the 7th day got a 9ft. bear. Great boat and good weather after the first two days. Also good company. The four of us took the whole boat. Thanks.
Shot my bear on the third day. He was with a sow and had his mind on something but us! Great hunt, great time, great boat.  Thanks.
Killed my bear on next to last day. We saw lots of bears. The boat was amazing and weather great. It's been a great trip.
Killed and the next to last day. Awesome trip!
Wonderful hunt. Great accommodations. Bruce and his staff went above and beyond to make sure we a great time. Thanks so much!
Great hunt. Boat, Bruce, and staff were amazing. Will come again. Thank you!
Awesome sightseeing cruise everything was perfect from pick up to the last night. Staff was totally accommodating and went above and beyond to make sure we had a great time. Gourmet meals were 5 stars. Highly recommend this trip for any family wanting a personalized tour of some of the Mose beautiful scenery on the world. Thank you very much for the trip of a lifetime.
My first black bear. An experience of a lifetime. Great crew, captain, and chef. First class all the way!
We had a beautiful trip and are very happy to visit again in your marvelous place of Alaska. As a bonus of all the wonderful sightseeing, I got my bear with Bruce. Many thanks for everything.
Norma & Ricardo D.
Argentina
Thank you, Bruce & crew, for the exciting hunt. One of the best trips I've ever been on! I will be back. Thank you!
Wonderful trip. Great scenery, and great hunt for Brown Bear. Thank you from the two Texan's.
Wonderful Experience with a great crew. Lots of bears. Close up and personal.
Thank you for the wonderful hunting experience, for your friendly hospitality, and delicious & nutritious meals with attentive care.
Giovanni & Paolo M.
Canada
We just wanted to say thank you for a wonderful trip aboard the Alaskan Harvest and our fantastic goat hunt!
We were so pleased with the trip and Bruce was awesome as well as Bae – plus I want to give a big thanks to Carl for taking care of us ladies who stayed on board, (ha we thought we wanted to go out for a day with the guys – but found out a boat ride with Carl to see some sights was plenty of time in that nasty weather) but would not have traded a minute of it.
Ashley also did a good job of taking care of us.
Just can't say enough about how pleased we were and how happy we are that we chose to go with you guys!
Thanks Again for the wonderful service and taking care of us on our hunt. I can't say enough about how great you and your team are. Hope to hunt with you again in the future.